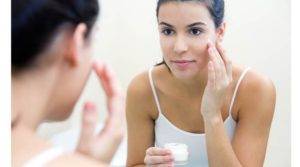 For most, acne was a major part of growing up. But teens aren't the only suffers of "zitty" complexions. Many adults feel embarrassed about adolescent looking breakouts. Who wants to face work or prospective employers, dating or social settings with acne dampening their confidence?
Over the counter medicines have been marginal in effectiveness and largely made of the same stuff that came out of the tube in the 1950's. But this year the FDA has approved over-the-counter Differin Gel at concentrations of 0.1% and many have been hoping the topical medicine will be their new ticket to clear skin.
Differin Gel 0.1% was first approved in 1996 as a prescription medication to treat acne and now it's the first retinoid to be approved for over-the-counter use in acne treatment. Patients should apply a thin layer of the gel over the affected areas of the skin daily. It should only be used externally and should not be applied on damaged skin. If you're pregnant, breast-feeding or planning a pregnancy, you should consult a doctor to see if it's safe to use.
For some cases of severe acne, Differin Gel and topical solutions like antibiotics and astringents may not be strong enough to reduce inflammations caused by acne. But there are some more aggressive non-invasive approaches that can effectively prevent acne flare ups from reoccurring. Thanks to the advent of modern techniques acne problems can be corrected with procedures that go deep into the skin's surface to help minimize the overproduction of sebum oil. These treatments also unclog the pores and generate new healthy skin. There are some procedures that also correct blemishes and scarring caused  by acne.
At Advanced Skin Fitness, we offer Clearlight Laser Treatment for clearing up acne. Clearlight Laser is a non-invasive procedure that uses high intensity blue light to improve acne inflammations of bumps and pimples.
We also offer Microdermabrasion as a treatment for acne. Microdermabrasion is a non-invasive treatment that improves the texture of the skin by shedding the dead damaged outer layer of the skin and thoroughly clearing clogged pores to prevent acne breakouts.
Another procedure that we perform to treat acne inflammation is Microneedling with Radio Frequency Micro-needling with Radio Frequency is a technique that helps smooth out wrinkles, induce collagen and elastin reproduction and eliminate blemishes caused by acne scars.
Patients should also consider our Hydrafacial treatment for acne. It's a safe, non-invasive, non surgical treatment that delivers the beneficial properties of an elevated chemical peel in a series of specific steps for smooth healthy skin. The procedure also involves painlessly removing any exorbitance of oil that has accumulated in the pores and hydrating the skin with antioxidants.

Advanced Skin Fitness pioneers professionally administered aesthetic treatments that go far beyond anything that can be done at home or with over the counter products. Our Dallas Laser Hair Removal service is second to none as well as our vast array of age defying skin treatments. Talk to Advanced Skin Fitness about your options today. We're friendly, sensitive to your needs and would love to hear from you.