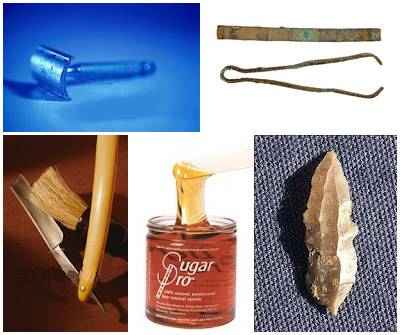 Did you know that waxing, shaving, and laser hair removal are not new phenomenon? People have been removing body hair for over a millennia and for many reasons. Evidence has confirmed that even caveman would use sharp objects such as shells or rocks to scrape off unwanted body hair. Can you imagine a bikini wax without the wax but a shell or rock instead?
Even the ancient Egyptians used sharp objects to scrape off unwanted body hair in the name of beauty until they created a method still used today called sugaring. Yes sugaring! A sugary paste would be applied to the skin and then ripped off with cloths. This process was used to remove all hair "down there". Even men would remove all the hair on their heads, as a mark of status.
Soon hair removal creams made of bats blood, and powdered viper would appear on the scene and continued into the Roman era. The Romans then introduced tweezing with the invention of copper tweezers. Europeans during the middle ages even continued to remove body hair, especially among women who would remove their eyebrows and hair from their hairline to give them an elongated forehead.
Threading became popular in the US and originated in Arabia. A thread is looped and the hair is captured in the loop and plucked out. Other forms of hair removal such as using depilatories were used in the Eastern world. Recently threading has made a come back, and new technologies like electrolysis and laser hair removal have recently appeared on the scene, offering truly long term results for the first time. Electrolysis uses a thin metal needle to zap the base of the hair follicle and cauterize it permanently.
Shells, rocks, pumice, or flint gave way to the razor, as we know it today. The L-shaped Perret razor was invented in 1760, and the Gillette safety razor in the 1880's. 20th century hair removal methods are varied and widely available and affordable; used by members of all social classes. Shaving, sugaring, tweezing and waxing are still some of the most common beauty practices of men and women.The latest trend in hair removal, the laser, entered the scene recently, in 1995, but is gaining widespread popularity. While electrolysis targets individual hairs, a laser can often cover areas of skin more quickly. It works well for light-skinned, dark-haired individuals.
What is used in a laser hair removal procedure?
Laser hair removal is a medical procedure that uses light – an intense, pulsating beam of light – to remove unwanted hair. Laser hair removal works by passing a beam through the skin targeting the hair's dark pigment, called melanin. When the light beam hits the hair follicle it produces heat, which damages the blood supply to the living hair follicle.
Which forms of hair removal have you used? We are sure glad to be alive in the 21st century where removing unwanted hair is painless as scheduling an appointment for a laser hair removal consultation. Or maybe you've decided to try scraping your legs with a shell to save a few bucks? With Swimsuit season here it is time to de-fuzz and we are here to help you get rid of any unwanted hair! Call us to make an appointment or click on our link below.
Here at Advanced Skin Fitness we have been specializing in Laser Hair Removal since 2003. We are able to treat unwanted hair on almost any area of the body. A minimum of six treatments are needed, and they are spaced out every six to eight weeks. Results very from person to person and they also depend on the area being treated.